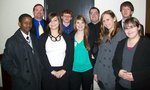 2010-2011 Scholar`s Bowl Team
On Tuesday, February 8, 2011, the W. S. Neal Scholar's Bowl team competed in an Invitational tournament at UMS-Wright Preparatory School. Students competed against other teams from Mobile, Baldwin, and Escambia Counties in Alabama, as well as a team from Escambia County, Florida. Teams competed in head to head matches consisting of twenty-five questions each. The categories were varied and included ones like music, Chemistry, history, A to Z, and many others. Out of the fourteen teams, the W. S. Neal team was ninth in total points for the day. This was the first major competition for the team. Mr. Quimby, Team sponsor, said he was very proud of the team and looks forward to more success in the future.
Pictured are members of the 2010-2011 Scholar's Bowl Team: Gary Likely, Gracee Dixon, Ashley Bridges, Jenna Carter, Kristina Sturdivant,Sponsor Mr. Quimby, Donald Hardyman, Tommy Hutcheson, and Nathan Blair.